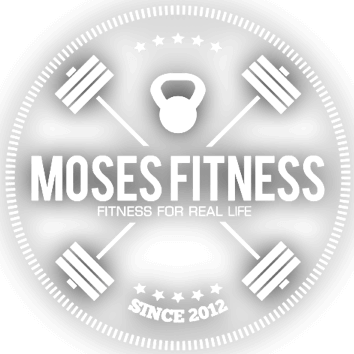 WELCOME TO MOSES FITNESS
Fitness
---
At our gym, we take a personalized and comprehensive approach to fitness. Our experienced coaches create custom fitness programs tailored to your specific goals, whether it's strength, conditioning, powerlifting, bodybuilding, Olympic lifting, or strongman fitness. We are committed to delivering high levels of service and ensuring measurable results. Join us and experience the dedication and expertise that sets us apart in the fitness industry.
Nutrition
---
Nutrition is a vital component of our fitness approach at our gym. Our nutrition programs are designed to support your fitness goals, with daily caloric intake tracking and customized meal plans. Our expert coaches guide you in making informed choices, optimizing your workouts, and maintaining a healthy lifestyle. Fuel your success by partnering with us and benefit from our comprehensive nutrition support.
Accountability
---
Achieving your fitness goals requires accountability, and our gym understands that. Our regular check-ins and accountability measures ensure your progress and motivation remain high. Our coaches provide expert guidance, addressing challenges and celebrating achievements. Join our supportive community and experience the power of accountability as you make steady progress towards your fitness goals.
12811 Victory Blvd
Valley Glen, CA 91606
Sun – Thu: 7 AM – 10 PM
Fri: 7 AM – 4 PM
---
OUR CLIENT TESTIMONIALS
Pascale Peguero
March 27, 2023
I wanted serious, focused strengthening workout. My workout instructor John, and my Nutrition Guru Jonathan are set to help me reach my goals. Moses Fitness is definitely a 'Go To' for serious change.
Started here about six months ago because I was getting stagnant in my progress and hitting a wall. I wanted a little outside observation to help me figure out where the gaps were, but I got so much more. Sitting down with Ronson in my initial consultation, he was thorough and attentive and really put thought into what I wanted and what he advised. I was paired up with Jeremy (not me, the better-looking one) who immediately assessed some deficiencies in my nutrition and overall ideology. He provided me with challenging workouts that introduced some new ideas, showed empathy and understanding when I came up short or missed a goal, and kept me on track. I'm feeling and looking better than I have in years and even doing some things I never expected to do! Moses Fitness was more than that, though; everyone there is encouraging, upbeat and pushing for new goals every day. It's legitimately my current happy place in life and I look forward to heading in every day. The trainers at Moses are holistic in their approach to fitness, enriching the body and the spirit, and it makes a difference. What they have created here is more than just a workout program or a nice elite gym; it's a community and a forum, a genuine and caring support system, and bottom line a fun place to be.
Raz Razla
January 2, 2023
I have been going to Moses Fitness for 2 years and the staff and trainers are unbelievably talented. Everyone here is so personable and they care about your health and diet. I have seen major results and Moses Fitness is the best gym to get these results.
Precious Jordan
December 29, 2022
The coaches have been so helpful and they make you feel welcomed the second you walk in the door. I am super thankful I happened to come across Moses Fitness and would highly recommend to anyone!!!
gary rosario
December 27, 2022
Amazing trainer & by far the most knowledgeable John Hassle ; great programs , small gym with a great community of people that motivates and supports each other !!!
Art Andranikyan
December 21, 2022
By far the best gym in town, believe me! My wife and I started training at Moses early 2021 and the results we saw in a short amount of time were phenomenal. They provide a meal sheet, and a mandatory check in every couple weeks but the honest truth is that the hard work is up to you. You get what you put into it! The physical and mental training you get at Moses gets carried with you even after you decide to venture away. Everyone at the gym was very helpful and it was a family environment. I enjoyed every day and every moment of my 6 am class. Starting with my coach John to my group of friends I trained with M-F! You guys all rock!! Thank you to John, George, Dan, Mendy and Ronson for making this possible! Congrats on the expansion and looking forward to seeing you guys expanding even more!
CONTACT US
Office Hours:
Sun – Thu: 7 AM – 10 PM
Fri: 7 AM – 4 PM